+ Gently cleanses without stripping your skin
+ Hydrates with humectants like Glycerin and Agave
+ Reduces the appearance of fine lines and wrinkles
+ Antioxidant-rich formula
+ Helps prevent and fade hyperpigmentation
+ Gently cleanses without stripping your skin
+ Hydrates with humectants like Glycerin and Agave
+ Reduces the appearance of fine lines and wrinkles
+ Antioxidant-rich formula
+ Helps prevent and fade hyperpigmentation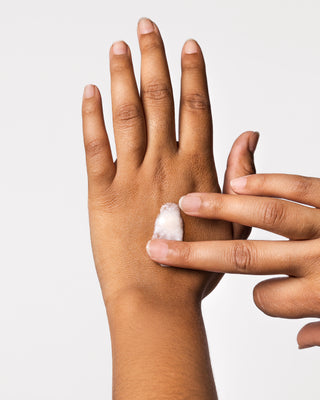 How to Use
Squeeze, Cleanse, Hydrate.
Squeeze 1-2 drops of Feelin' Fruity Creamy Cleanser onto clean, wet hands. Apply to a damp face and massage in circular motions. Rinse it off with warm water. Use twice a day, once in the morning and once at night.

Shelf life of 12 months. Store in a cool, dry place. For external use only.

Know what you put on your skin
Ethical, small batch skincare.
Each batch is freshly made at our lab and sent directly to your doorstep, no middlemen here.