+ Lightweight, non-sticky, and moisturizing
+ Somewhere between skincare and makeup
+ Formulated for long-lasting nourishment
+ Leaves your lips visibly glossy and soft
+ Vitamin E to heal and nourish your lips

+ Lightweight, non-sticky, and moisturizing
+ Somewhere between skincare and makeup
+ Formulated for long-lasting nourishment
+ Leaves your lips visibly glossy and soft
+ Vitamin E to heal and nourish your lips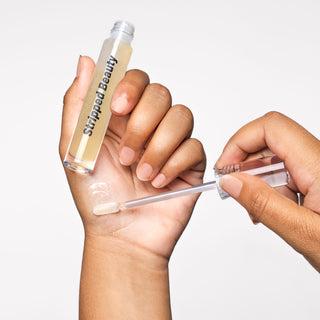 How to Use
Sweep, smack, shine.
This product is for anyone with lips. Unscrew the wand and swipe across your lips to unlock a peachy, minty experience.

Shelf-life of 8 months. Store in a cool, dry place. For external use only.

7 ml / .23 oz

Know what you put on your skin
Ethical, small batch skincare.
Each batch is freshly made at our lab and sent directly to your doorstep, no middlemen here.