Get to Know Stripped Beauty's Cosmetic Chemist: Chatting Advice and Ingredients with Cathie Arpino
AUG 10, 2020 · By Melissa Arpino for Stripped Beauty
^^Ultimate throwback photo of her from the 80's 😆
I get a lot of questions about where our formulations come from or where I learned to make skincare products. The answer is simple: it's a family thing! Meet my mom, Cathie Arpino. Besides my mentor, she's a badass cosmetic chemist with over 35 years of experience formulating skincare products. I decided to sit down with the amazing woman behind it all and ask her some questions.
Before I get into the interview, let me backtrack a little. About three years ago, I noticed my skin finally clearing up after using natural clays like Bentonite and Rose Clay. I got super into researching different ingredients, how they work, and the science behind them. I realized I was falling in love with skincare, the same way my mom did. This was when I started exploring the idea of creating my own products. I asked my mom if we could play around in the lab, and that's how Stripped Beauty was born. Anyway, I hope you enjoy these questions I got to ask her while drinking our morning coffee.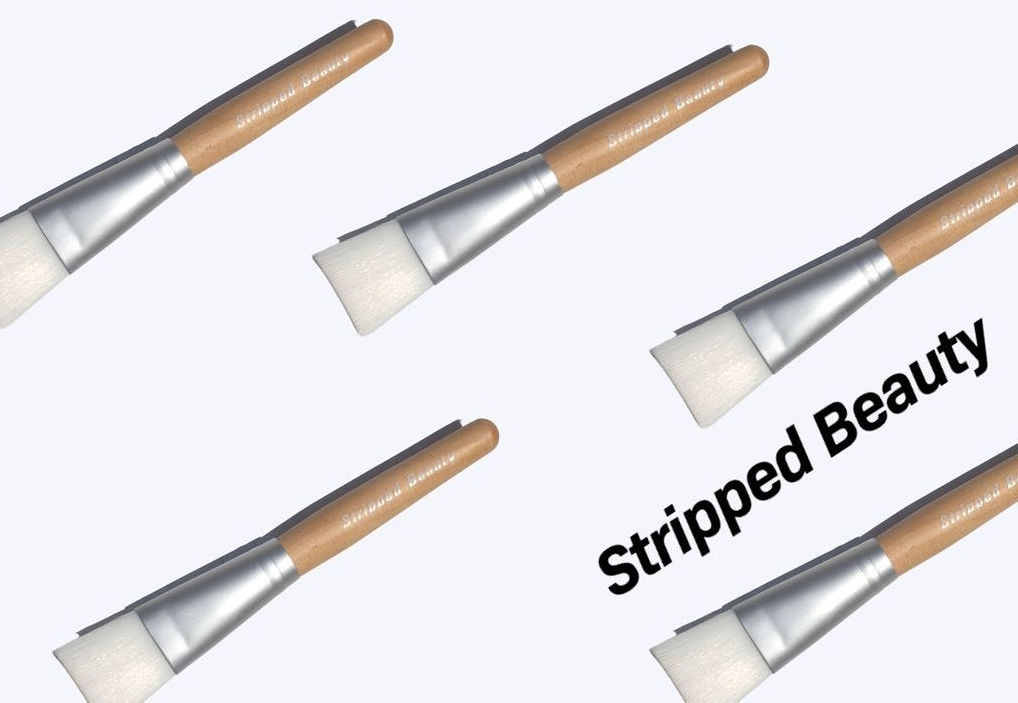 What sparked your interest in becoming a cosmetic chemist?
I was always intrigued by science and went to school for chemistry. After graduation, I started working for the Estee Lauder Companies, where I began my career as a cosmetic chemist. I moved upstate to start a family around 1996, where there was no work in my field, so I went back to school for nursing. After working as a nurse for 10 years, I found my way back to the lab, and that's when I started Hudson Valley Skin Care around 2012. Hudson Valley Skin Care is a face and body care line that incorporates local ingredients into every product, skincare powered by our community. Chemistry will always be a part of me, so I'm very thankful to have circled back to formulating cosmetics.
What interested you in making natural skincare?
I was studying natural skincare in the early '80s, and it always sparked my interest; I love the power of nature. When I started Hudson Valley Skin Care, I wanted to use naturally derived ingredients as much as possible. This taught me how to perfect products using minimal ingredients along with no silicones or fancy filler ingredients. This philosophy was quickly adapted into my regular formulation, and it's what I prefer now. Why use harsher/not-so-eco friendly if you don't have to?
What inspires you when formulating a product? How do you know what to add?
The happiness that something I made can bring to someone is truly amazing. People's skin is important to them, and I love to help people feel good and achieve their dream skin. I love contributing to bringing positivity to people's day; there's no greater feeling than someone telling me they love a product I made. When formulating, I try to keep up with what the industry is doing. I always have my go-to fav ingredients: Shea Butter, Squalane, Jojoba Oil, Argan Oil...basically anything that is healing and moisturizing.
What is your favorite type of product to make?
Definitely soap; it's so rewarding. You get to create and watch the chemistry behind it. When making soap, you combine fats and oils to produce the chemical reaction of saponification. As you make it, you can feel it thickening and heat up. It takes roughly one month for it to cure and be usable: so cool! I also love soap-making because of its endless possibilities when it comes to colors and scents; it's limitless!
How do you feel about words like "natural" and "clean"?
"Natural" and "clean" are tricky words since there is no current legal definition to regulate them. What is considered natural to someone might not be considered natural to another. Of course, there are general guidelines to distinguish "good" ingredients from "bad" or "toxic" ones. However, without regulation, there are no limits on what a product must contain to be "clean."
To me, "natural" means the ingredient hasn't changed much from its natural self in nature. Examples of this would be natural oils and waxes. I identify the word "clean" with ingredients backed by science that are effective and safe for the skin. Instead of focusing on words like that, I prefer to look at the whole formula and make sure it's formulated responsibly and transparent as to what is in it. I tend to stray away from the word "clean" because most ingredients are fine as long as they are formulated correctly and balanced with other ingredients. Ultimately though, words like "natural" and "clean" aren't a bad thing. I think it's incredible what the beauty industry is moving toward in terms of transparency.
What are some common myths being marketed to consumers by the "clean beauty" industry that you think should be discussed more?
A lot of clean beauty brands are still using ingredients that aren't exactly "clean." Certain thickeners and surfactants hide behind the marketing ingredients, typically plant-based or derived, making the product appear "natural." These ingredients aren't bad, but they certainly don't align with the clean facade that some brands preach about.
Also, not all synthetically lab-made ingredients are harmful! Companies can be quick to say "free from chemicals," but everything is made up of chemicals! Of course, avoid the harsh and dangerous ones, but if formulated and balanced correctly, everything in moderation is okay. Instead of singling an ingredient out and judging the product solely on that, try to understand the whole formula and the other components that might help stabilize or help that ingredient perform. When in doubt, ask your dermatologist or esthetician.
What advice would you give to others who are interested in working in cosmetic chemistry/product formulation?
If you love beauty and science, definitely go for it! Learn and study the industry, read labels to understand ingredients, and test as many products as you can. There are so many free resources to learn online, and there are tons of easy products you can start with, like a face mist or body butter. Be confident and never give up; creating products is a constant trial and error process, but the reward is worth it once you get the consistency and feel you want.